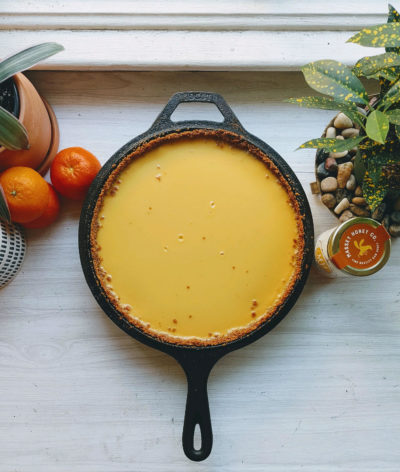 Posted on December 14, 2020
Continuing with our seasonal holiday recipes with Chef Matt Roman (@at_ur_table_oc), this awesome buttermilk custard pie uses our orange blossom honey. The honey is ever-so-slightly burnt, purposely, and that aromatic note really comes through in this simple dessert. Matt also uses labneh, which is a kefir cheese you can find pretty easily. It's almost like a mixture between cream cheese and yogurt. A secret ingredient for the silkiest custard pie you've ever had.
We love this dessert. It's elegant and simple but also unique for a holiday pie option.
Recipe:
Serves: 12pcs
INGREDIENTS
For the Crust
1C – Graham cracker crumbs
½ C – melted butter
2T – sugar
1 pinch – kosher salt
For the Custard
1C – buttermilk
1C – Labneh (kefir cheese)
3ea – eggs
1ea – egg yolk
1 tsp – vanilla bean paste
¾C – burnt Massey Honey Orange Blossom honey
1ea – juice and zest of an Orange
1 pinch – kosher salt
Prepare the crust first by melting butter and mixing with the crumbs, sugar and salt. When clinched in your fist, the crumbs should hold their shape. If they crumble easily, add a little more melted butter. Press into a pie tin or dish and bake at 355F until deep golden brown and dry to the touch. Roughly 25min. Let cool before adding custard for final baking.
For the custard, begin by placing honey in a saute pan and bringing up to a boil on medium heat. When honey begins to smoke slightly and smell a little toasty, pull off the heat immediately and let cool slightly before mixing with all remaining ingredients. When honey is still a little warm, mix all ingredients for the custard with a whisk in a medium bowl until thoroughly combined. Gently pour into the prepared Graham crust and bake in the oven at 325F until custard is just set in the center with a slight wobble and the outside rim looks a little puffy, about 35-45min. Let cool and serve at room temperature or cold.
Enjoy,
-MH Co.