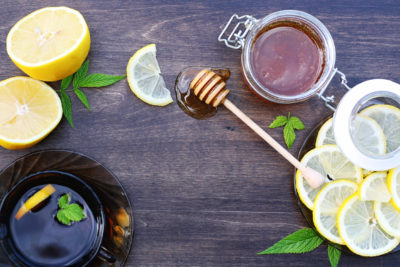 Posted on May 9, 2018
Chances are you haven't heard of Fire Cider, but if you have then you're probably reading this recipe with interest.
Many of the drink recipes we post involve recurring ingredients such as ginger, citrus, chilies, fresh herbs — and booze, of course. That's partly because those flavors taste good with honey. But it's also because, like honey, those ingredients carry nutritional value.
Fire Cider is an old-timey concoction that is really never made exactly the same way twice. It's hot (from the chilies), tart (from the lemons), acerbic (from the … do you know what "acerbic" means?), astringent (right…), and sweet, of course, from the raw honey. At heart it's a medicinal drink. The point is to boost your immune system and wake up your body with ginger, honey, turmeric, cayenne, garlic, and those sorts of post-yoga enlightened cleanse shots.
We've no clue if it works, but what we can tell you is that it grows on you. As is our habit, we've tried it with different spirits, like rye whiskey and mezcal (both were awesome). You can also spritz it up with seltzer or kombucha.
The idea is to jam a bunch of savory ingredients into a jar with vinegar, let it infuse for a few weeks, then strain it and mix it with raw honey to sweeten it, take off the edge, and indeed make it even more healthier.
As we said, there's no "one way" to do this. Here's a recipe that we all seemed to like. Give it a shot—give and take here and there as you please.
Recipe
Apple Cider Vinegar (as much as you need to cover everything in the jar- the more the better)
1/2 cup peeled and thinly sliced ginger
1/4 cup peeled and thinly sliced tumeric root (or a tablespoon of the pre-ground stuff)
1/4 cup peeled and sliced garlic (just embrace it)
1/4 – 1/2 cup sliced raw horseradish root
2 small organic lemons, cut into smaller pieces (peel and all)
1 organic grapefruit, cut into smaller pieces (peel and all)
2 tablespoons chopped parsley stems
2 tablespoons chopped rosemary
2 tablespoons thyme leaves
2-3 of your chilies of choice (we recommend seranos over jalapeños, if that's where you're headed)
a few strong shakes of cayenne pepper
5 black peppercorns
raw honey — at least 1/4 cup, depending on how sweet you want it.
Enjoy.
-MHC