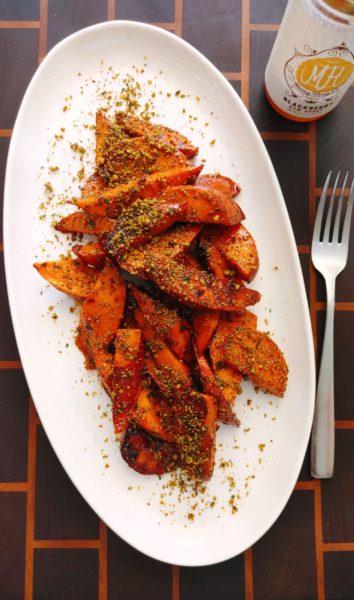 Posted on November 24, 2020
As part of a seasonal collaboration with Chef Matt Roman (@at_your_table-oc), we combine the tried-and-true duo of honey and lime for an unexpected and delicious holiday side dish. It's sweet potatoes, glazed with honey and lime, and sprinkled with dukkah, a middle-eastern hearty spice mix, made of ground nuts, seeds, and herbs.
Serves: 4ppl

INGREDIENTS
For the Sweet potatoes:
-1oz – olive oil
-1oz – butter
-2ea – sweet potato spears (garnet yams)
-¼ C – water
-2ea – lime juice and zest
-1tsp – smoked paprika
-2oz – chopped parsley
-4oz – Blackberry Honey
-Salt and pepper to taste

For the Dukkah:
-½ C – toasted pumpkin seeds
-1 tsp – coriander seed
-½ tsp – fennel seed
-2ea – clove
-½ tsp – chopped parsley
-Pinch of salt & pepper

Prepare the dukkah in advance by toasting all seeds and then grinding them in a spice grinder. Add chopped parsley and season with salt and pepper. Set aside.
Begin the sweet potatoes by preheating an oven to 450F. Cut sweet potatoes into angled spears or some other desired shape. In a cast iron skillet heat butter and oil on medium high until butter begins to brown. Add sweet potatoes and sear until deep golden brown or slightly charred. Add honey, water, lime juice and zest. Transfer into the oven and roast for 6-8 min. or until potatoes are just cooked through. Bring back to the stove top and reduce remaining liquid into a glaze around the potatoes before adding the paprika and parsley.
Season to taste. Serve family style and top with pumpkin seed dukkah. Enjoy.
-MH Co.

Matt does supper clubs and multi-course dinner parties. Collaborate with Matt on a custom seasonal menu. Check out Matt's stuff on Instagram (@at_your_table_oc).