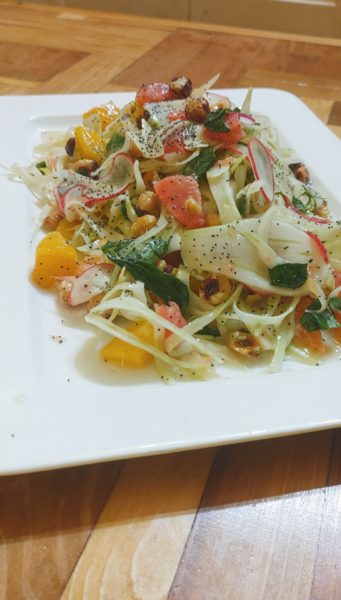 Posted on January 11, 2021
Orange Blossom Honey brings a floral note to the fresh fruit juice and this vinaigrette is dialed in! Use this honey-laced vinaigrette recipe from Chef Matt Roman to up your homemade dressing game.
Follow Chef Matt's Instagram—@at_your_table_oc—for news on his cooking classes, private dinner parties, and delivered meals. 
Yield: 2C
INGREDIENTS:
For the vinaigrette
1 ½ C Grapeseed oil
¼ C apple cider vinegar
¼ C lemon juice
1 tbsp Dijon mustard
1 tsp poppy seed
1 tsp Kosher salt
1 tsp lemon zest
In a blender, add oil, vinegar, lemon juice, honey, and mustard and a little bit of water (do not add poppy seeds yet). Turn blender on low and begin emulsifying the oil until a slightly thick opaque dressing forms. Stir in the poppy seeds and season with salt to taste. Enjoy.
As a side note, this vinaigrette works great in a shaved fennel and citrus salad. We use the following:
Fennel bulb
Easter egg radishes
Torn basil leaves
Toasted hazelnuts
Cara Cara orange segment
Navel orange segments
Ruby Red grapefruit segments

-MH Co.