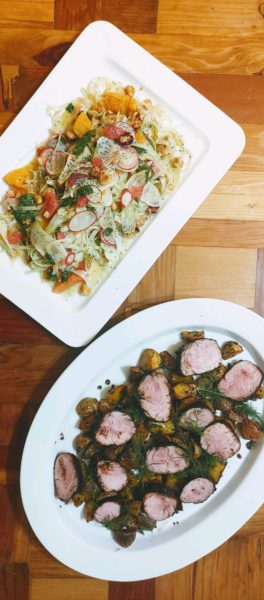 Posted on January 11, 2021
If you haven't tried our featured Coffee and Avocado Honey Glazed Pork Tenderloin, now's the time to do it because here's a family-style side to complete the meat-and-potatoes marriage. We're using Sage Honey with this recipe, which pairs so well with the briny pickled mustard seeds. Go to @at_your_table_oc on Instagram to check out Chef Matt's local offerings—cooking classes, meal prep, bespoke dinner parties. 
Serves: 4ppl

INGREDIENTS:
2lbs fingerling or marble potatoes (quartered)
2-3 tbsp grapeseed oil
2oz apple cider vinegar
3oz pickled mustard seeds (see notes)
1oz chopped italian parsley
Kosher salt and black pepper to taste
*cooking note – we use a recipe based off of this link Recipe: Pickled Mustard Seeds — Our Daily Brine
Preheat oven to 475F.  In a cast iron pan, heat oil until it begins to smoke.  Add potatoes and cook on medium high to high until several sides of the potatoes start to caramelize and crisp up.  Season with salt  and pepper and transfer into the oven.  Roast until potatoes are tender about 15min or so. Check with a paring knife: if it pierces to the center easily, they are done.  Return to the stove and on high heat, deglaze with the vinegar and add the remaining ingredients.  Cook until the honey and mustard seeds begin to tack onto the sides of the potatoes and they become glazed.  Enjoy.
-MH Co.