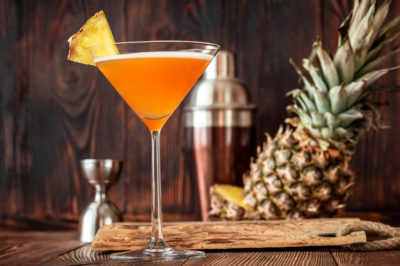 Posted on July 5, 2021
This is a cocktail those for those who don't mind slowing it down and going with the flow. It uses a spiced pineapple honey syrup. Together, the reduced pineapple and honey will shake up into a really nice texture.  

The proportion for it will be 4oz pineapple juice to 1oz honey. Combine the juice and honey in a small saucepan over medium heat and begin heating. Toss in a couple allspice berries and (optional) a quarter of a cinnamon stick. Add more spices if you're making a larger batch. The pineapple juice will separate a bit as it cooks, but that's okay. It'll come back together later. You're reducing it by making 25%. Then take it off the heat, strain, and cool. 

This drink also has Aperol, which is a bright aperitivo/aperitif made from rhubarb, like a mellower, fruity version of Campari. We like Campari in this cocktail as well; try it if you want to emphasize the bitter taste.,

Ingredients:
1.5 oz overproof rum (Smith & Cross is our recommendation)
0.5 oz Aperol
1 oz. lime juice
1 oz. spiced pineapple honey syrup
thin pineapple wedge for garnish
Prechill a cocktail glass with ice or in the freezer. Combine all ingredients in a shaker. Fill with lots of ice and shake really hard for 12 seconds. Strain (or double strain, with a hawthorne strainer and a mesher strainer) into the chilled glass. Garnish with the pineapple wedge. Enjoy.
-MH Co.