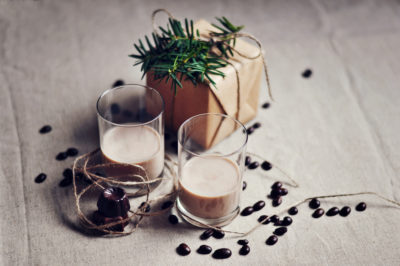 Posted on December 4, 2018
The holiday season is for tiki drinks. Think: fresh citrus juice, nuttiness, warm spices, froth.
This cocktail is called The Roman Holiday. We like it because of the divergent flavors it brings together. It's bitter, sweet, sour, and using a strong honey syrup instead of demerara syrup adds more body and earthy flavor.
Instead of the traditional honey syrup (1:1, honey:water), here we're using straight honey, warmed just slightly to liquefy it. It also calls for a balanced Amaro (try Amaro Meletti, Amaro Ramazzotti, Amaro Averna, or Amaro Braulio for something with a piney flavor). And the third unusual ingredient is cold espresso, which takes on a chocolaty taste when mixed with honey and amaro.
1 oz. of a dark, balanced Amaro
1/4 oz. campari
3/4 oz. lime juice
3/4 oz. pineapple juice
1/4 oz. honey (undiluted)
1/2 oz. cold espresso
a small pinch of salt (helps to cut the bitterness)
Shake it all up and strain into your favorite highball or old fashioned glass with crushed ice. Garnish with an orange twist and cinnamon stick. Happy Holidays!