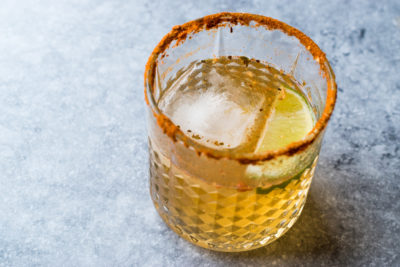 Posted on May 29, 2019
Ingredients:
1 oz silver tequila
1 oz mezcal
1/2 oz lime
1 oz grapefruit
1 oz Serrano honey syrup
3 slices cucumber
2 eighth sized segments of lime
Coarse salt for the rim
Make it up:
Make the honey syrup like normal but add diced Serrano chili as desired. With the Serrano chili, a little goes a long way. Let cool.
Muddle cucumber and lime segments in cocktail tin until juicy. Add liquid ingredients, ice, and shake hard. Strain into a salt rimmed highball filled with ice. Garnish with a cucumber. Enjoy.
-MHC