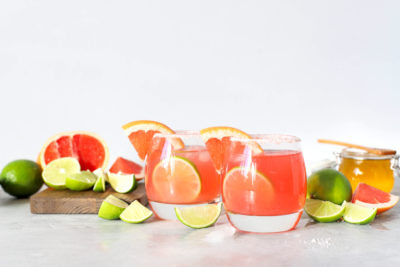 Posted on May 18, 2020
Who doesn't like a bubbly drink when it warms up? Here's a dressed-up version of a bubbly grapefruity cocktail that will save you from the tedium of vodka-sodas…
This cocktail balances fresh grapefruit juice with your favorite honey. We're using Wildflower Honey. And it fancies it up with the addition of an aperitif. These are fortified white wines flavored with botanicals, citrus, and other tasty aromatics. They're mellower than a typical amaro but way more flavorful than a simple sherry or Dubonnet.
Our favorite is called Cocchi Americano; it's based on a recipe for Kina Lillet, a now extinct aperitif that featured in the classic James Bond martini called the Vesper. I had a lot of Vespers in grad school. Cocchi light, a bit sweet, and has a wonderful grapefruit note. But if you can't find Cocchi Americano, we also like Suze for a full-bodied option, Salers Aperitif for a stronger herbal note, Kina L'Aéro d'Or for something slightly more bitter, and if you can't find any of these then Lillet Blanc is a workable substitute.
If you want to impress a date or if you want to date yourself, use sparkling wine with just a splash of seltzer on top. A bit more booze and a bit more bubbly.
The cocktail is simple enough. Fill a tall collins class or wine glass with ice, pour it all in and stir. Garnish with lemon wheel or mint leaves or even fresh basil.
INGREDIENTS:
1 1/2 oz. Cocchi Americano (or other blonde aperitif)
1 1/2 oz. fresh grapefruit juice
3/4 oz. honey syrup
seltzer to fill, about 3-4 oz. (or use sparkling wine with a splash of seltzer)
Lime or lemon wheel garnish
Enjoy.
-MH Co.